DYNAMIC BALANCER
DYNAMIC BALANCER
MICROPROCESSED DYNAMIC BALANCER PORTABLE AND FOR A BALANCING MACHINE STRUCTURE
MODEL BMX 900

It allows to dynamically balance (in two planes) any rotor, whatever the weight, type of support and geometry, and evaluates the balancing quality, based in ABNT Standard NBR 8008.
Operating Instructions and Balancing Evaluation are shown on the display itself.
Warranty: 18 months
Permanent technical assistance in VIBROCONTROL

See a BMX 900 movie in youtube.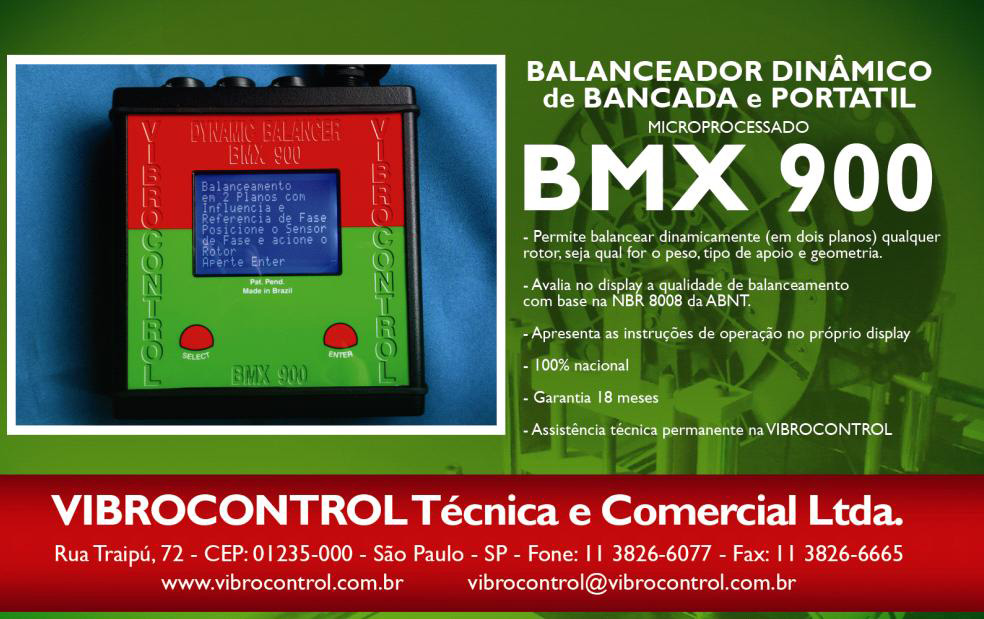 DYNAMIC BALANCING MACHINE

Attaching the Sensor PU 2002 to the floating bearing of a structure as the illustrated, the BMX 900 operates like a real Measuring Unit of a Dynamic Balancing Machine.
VIBROCONTROL provides along with the BMX 900, blue prints for the construction of the balancing structure. .



VIBROCONTROL Equipamentos Eletronicos Ltda.
Rua Traipu, 72 - CEP 01235-000 - Sao Paulo - SP - BRASIL
Tel.: +55-11-3826-6077 - Fax.: +55-11-3826-6665